Yellow Diamond Buyers are Nationwide Buyers of Fancy Yellow Diamonds and Yellow Diamond Jewelry, Sell Yellow Diamonds Today to Hamilton York 877-560-7070.
Yellow Diamond Buyers is the leading worldwide buyer of natural large yellow diamonds paying top prices with immediate payment to our clients. Yellow Diamond Buyers specializes in buying large, fine Natural Fancy Color Yellow Diamonds and Yellow Diamond Jewelry.
Yellow Diamond Buyers is the Fancy Color Diamond Buying Division of Hamilton York Estate Buyers and can purchase your diamond jewelry regardless of your location.
We have secure offices in California and Indiana but for most purchases we will meet you in your bank and pay you with an immediate wire transfer.
Only after your banker assures you the funds are securely in your account do we take possession of the merchandise. Sell a yellow diamond ring or sell yellow diamond jewelry by clicking on the appropriate link. As Professional Yellow Diamond Buyers we offer you:
* Confidential, Discreet transactions
* Wire transfer payment immediately to your bank account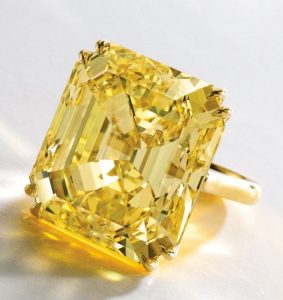 * Better Business Bureau A+ rated
* We pay top dollar and buy all sizes of natural yellow diamonds
Information about Yellow Diamonds and Canary Diamonds
The term "canary diamond" is often used to describe a very bright yellow diamond. The diamond industry however does not use this term in actual grading of a yellow stone. The color grade for a diamond begins at the letter "D" which is the highest grade for a white diamond. As you go down the alphabet for color grades, a diamond will begin to have a slight visible tinge of yellow beginning around the letter "K" and get increasingly more yellow as you approach the letter "Z". However, after the letter "Z" is where the Gemological Institute of America begins using the term "Fancy" to describe natural colored yellow diamonds as follows:
*Fancy Light Yellow
*Fancy Yellow
*Fancy Intense Yellow
*Fancy Vivid Yellow
*Fancy Deep Yellow
The value of a yellow diamond increases dramatically as you approach the Fancy Vivid Yellow grade, assuming similar clarity grades. The clarity grades for Fancy Yellow Diamonds are the same as used for white diamonds. The scale as follows with the "cleanest" stones at the top and more heavily included stones as you go down the list. Diamond values also decrease as you go down the list.
IF..Internally Flawless
*VVS1..Very, Very, Slightly Included 1
*VVS2..Very, Very, Slightly Included 2
*VS1..Very Slighlty Included 1
*VS2..Very Slightly Included 2
*SI1..Slightly Included 1
*SI2..Slightly Included 2
*I1..Included 1 (inclusions visible to the naked eye)
*I2..Included 2 (very heavily included)
*I3..Included 3 (extremely included)
Yellow Diamond Buyers assure you professional treatment from the moment you submit the "Sell Yellow Diamond" information to us through the point the funds are securely in your account. For specific details on how we guarantee your security to Sell Estate Diamond, please visit our Diamond Buying Procedures page. To Sell a Yellow Diamond or Sell Yellow Diamond Jewelry, simply call us toll free (877) 560.7070 today!
Copyright 2023 All rights reserved, Yellow Diamond Buyers, Hamilton York Estate Buyers